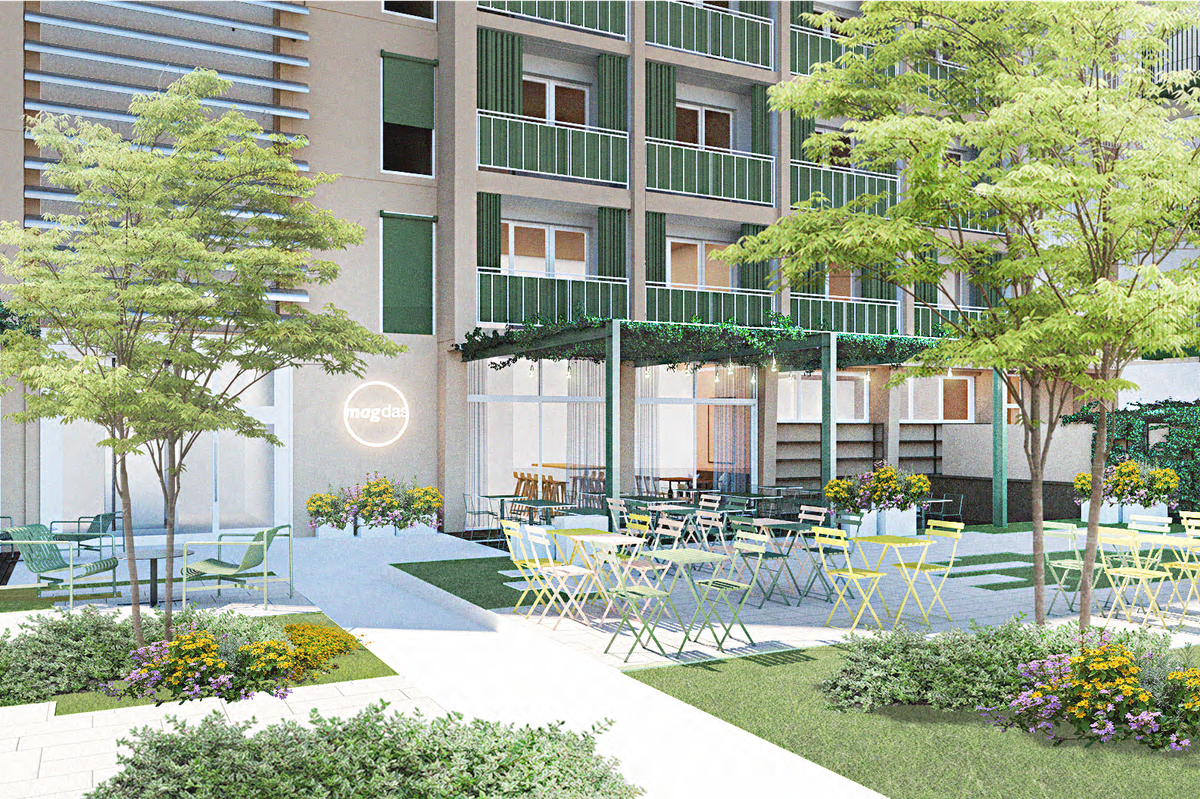 17 October 2022
On Sunday 16 October magdas LOKAL started with a soft launch and from now on you can have breakfast, lunch, cake & coffee as well as dinner there. From 21 October rooms can also be booked at the new magdas HOTEL Vienna City. Book now and have a look!
magdas HOTEL Vienna City
5 April 2022
The magdas hotel team met at the materialnomaden in Vienna to clean and refurbish 60 old lamps. For those who want to help out, there are plenty of opportunities under Caritas wir.helfen.shop. In May pillows, among other things, will be made out of denim materials for magdas hotel.
magdas HOTEL Vienna City
Für uns ist es wichtig, mit den Spuren zu arbeiten und Schichten der Vergangenheit und nicht gegen sie. Denn von ihnen geht der Charme aus und der besondere Reiz, der alte Gebäude auch so anziehend macht und ihnen einen besonderen Wert verleiht.
Erich Bernard
7 March 2022
To celebrate this year's Women's Day on 8 March free entrance and current key topics, guided tours and key talks have been offered by the House of Austrian History focusing on determined women such as Alma Rosé, a violine virtuoso of the 1930s who directed the female orchestra in Auschwitz …
House of Austrian History (hdgö)
Alma Rosé Plateau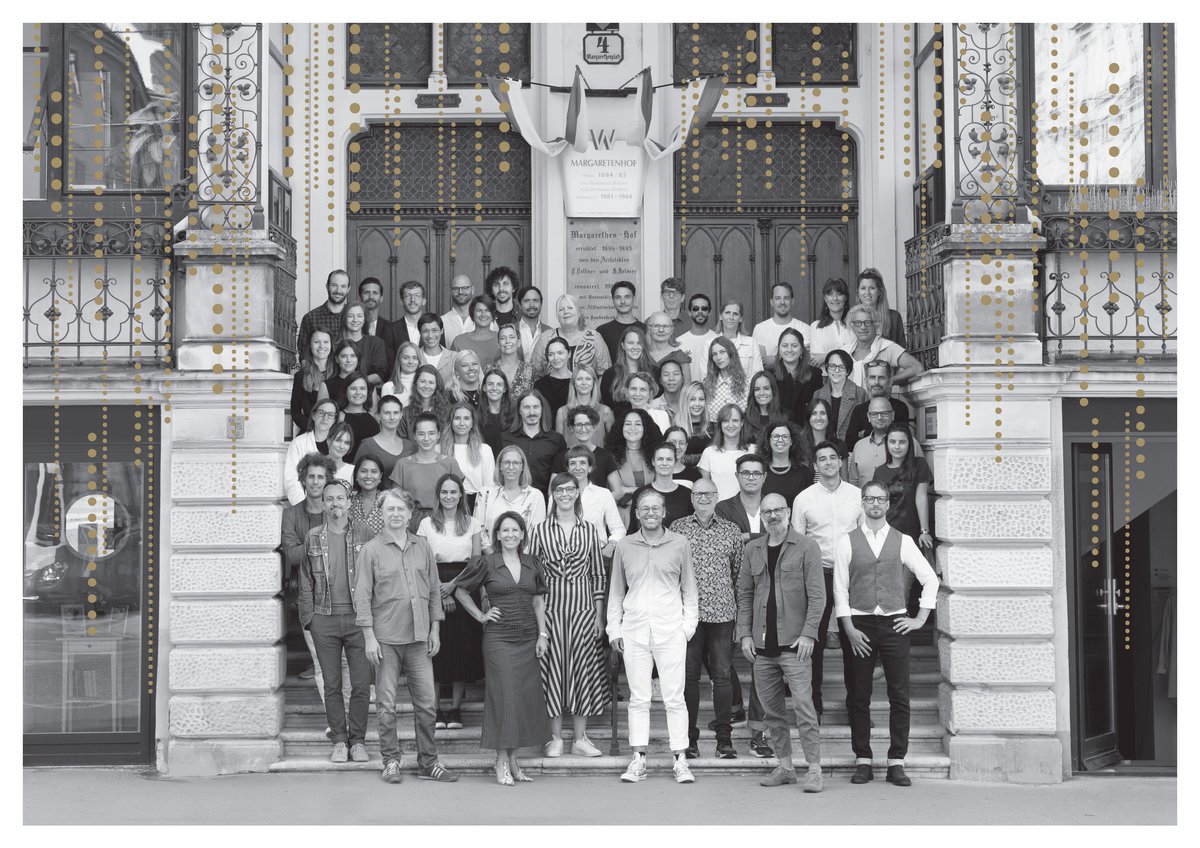 21 December 2021
BWM Architekten wishes you relaxing holidays and a good start into 2022! Our office will be closed from 21 December to 9 January; we will be there for you again on 10 January.
24 November 2021
The final result of this year's team photoshoot – thanks to the whole team, thanks to our photographer Renée del Missier!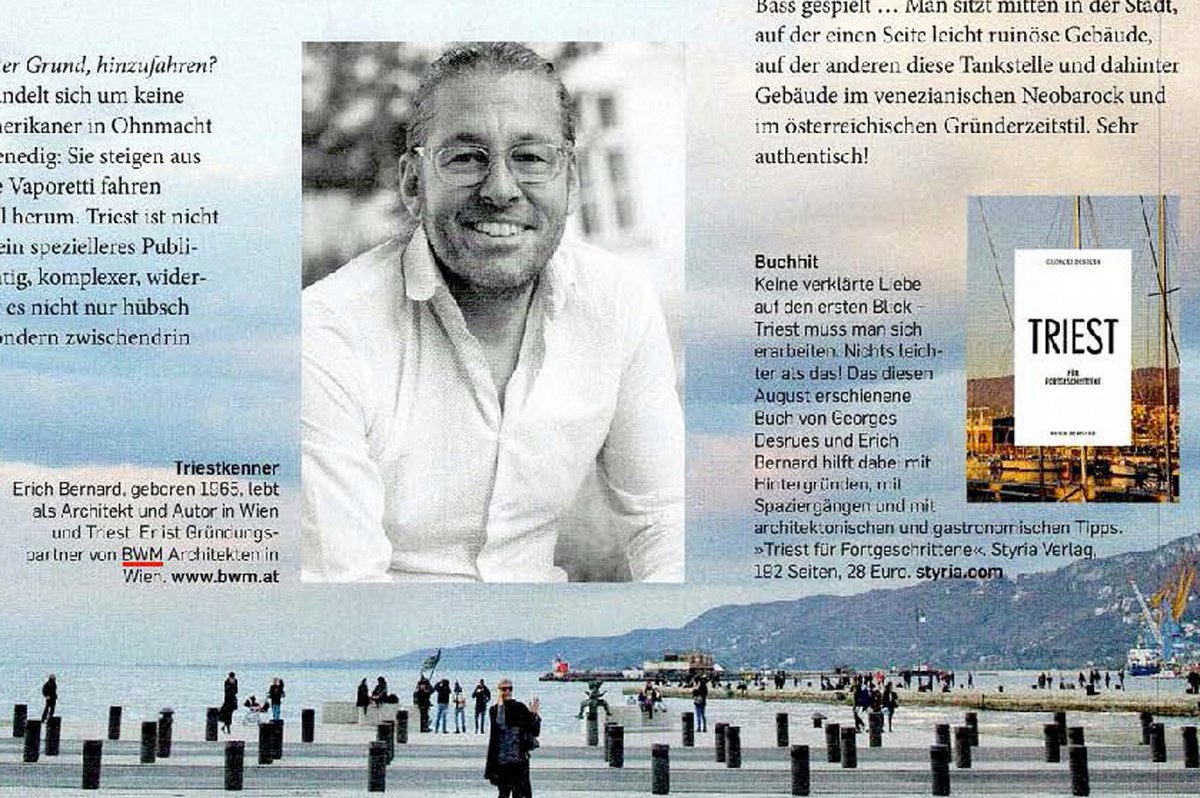 8 November 2021
Erich Bernard was interviewed about his book "Triest für Fortgeschrittene" in the current edition of Falstaff Living Residences. Read more here!
Triest für Fortgeschrittene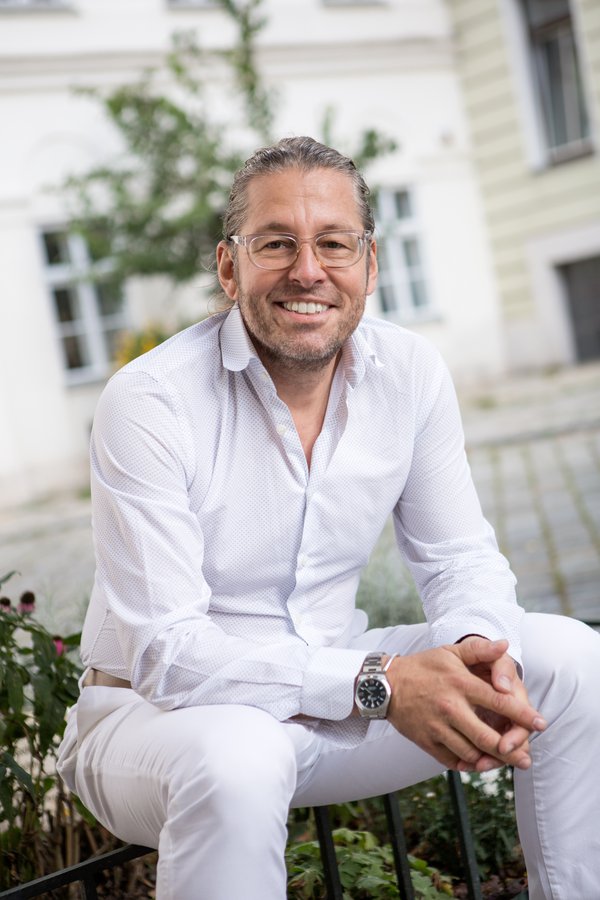 Beim Projekt der alten Reichsbrücke wurde der Blick auf den Dom durch die Pylonen der Kettenbrücke wie ein Bild gerahmt und gemäß der Ideologie des Ständestaates zum identitätsstiftenden Symbol für Österreich.
Erich Bernard
15 September 2021
Das alljährliche Teamfoto fand diesmal bei strahlendem Sonnenschein und wie immer in ausgelassener Stimmung statt. Danke an alle und v.a. Fotografin Renee del Missier!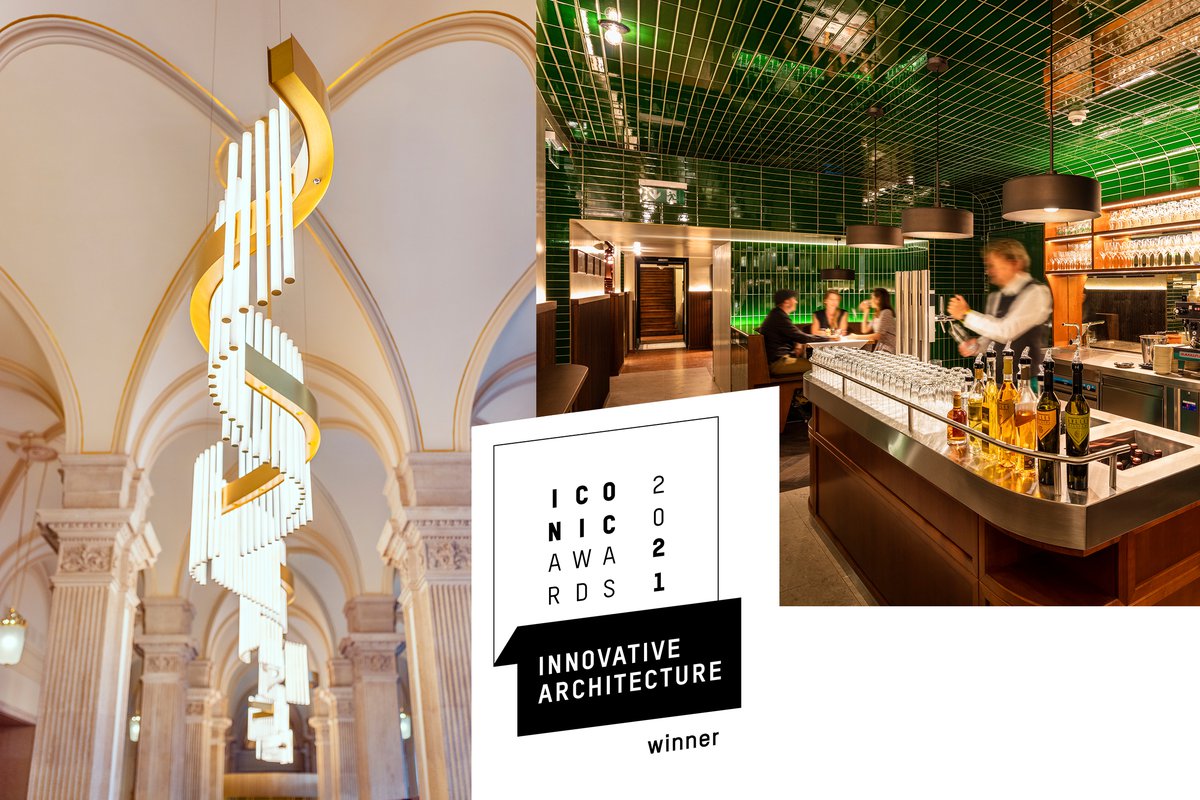 23 August 2021
The restaurant Figlmüller and the visitors' center at the Vienna State Opera, both designed by BWM, have been awarded with the Iconic Award 2021 "Innovative Architecture" as "Winner" for outstanding design quality. We are very happy!
Restaurant Figlmüller Bäckerstraße
Visitor's centre at the Vienna State Opera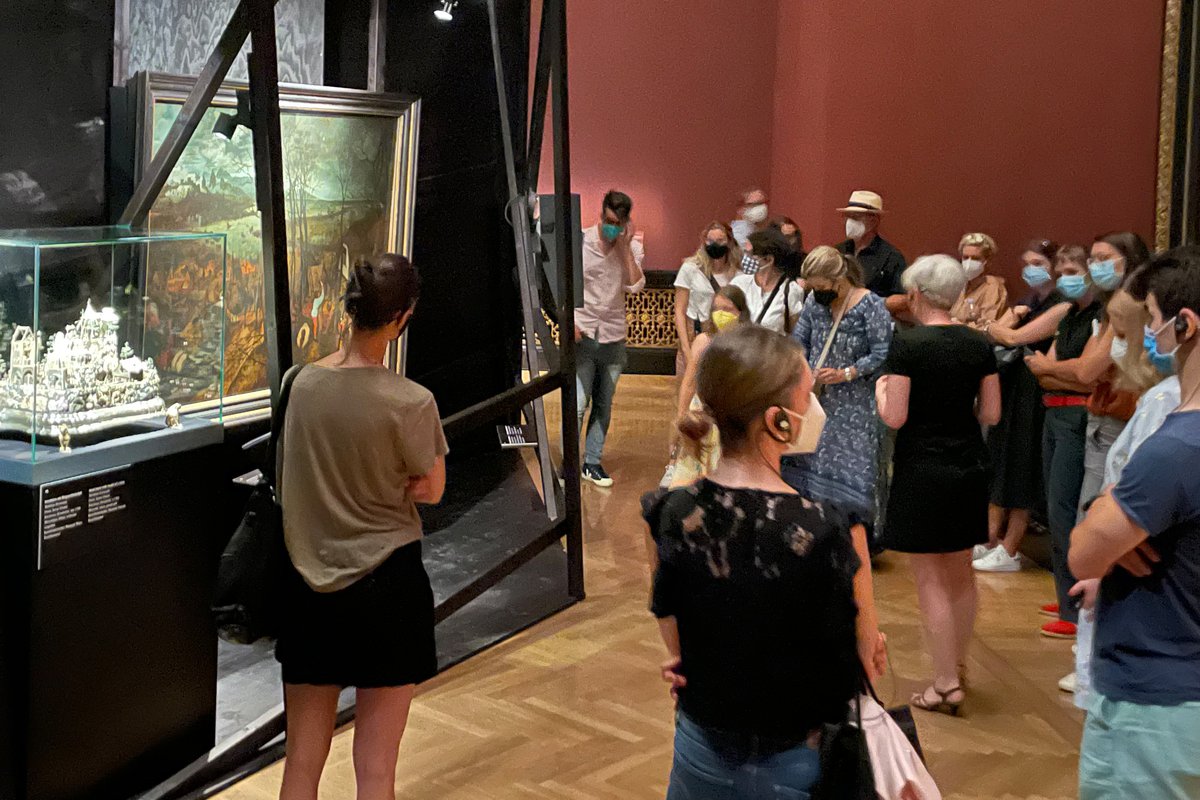 28 July 2021
The spring exhibition "Höhere Mächte. Von Menschen, Göttern und Naturgewalten" only lasts until the 15 August! In addition to the exhibition tours by art mediators and/or interesting lectures (on Thursdays) are offered – the BWM team (pictured) has already taken the chance to see it.
Higher Powers.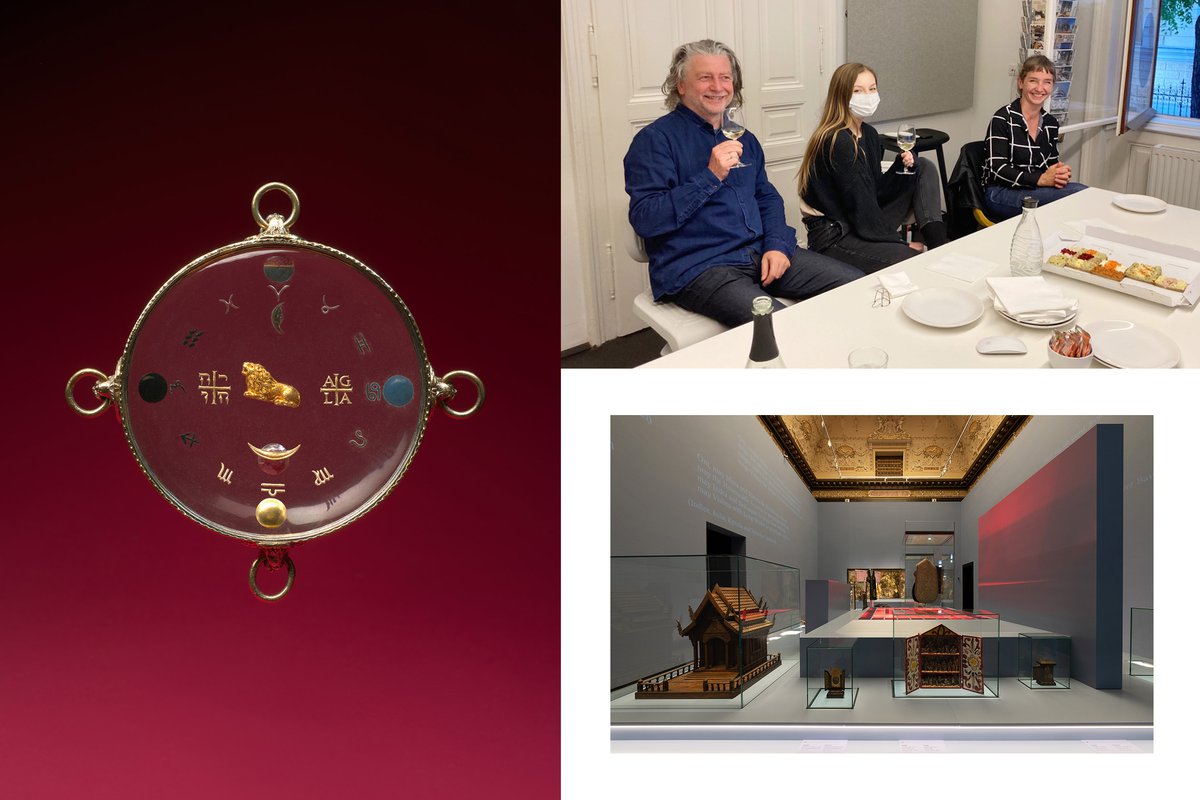 18 May 2021
The current spring exhibition "Higher Powers" shown at the Kunsthistorisches Museum Wien is designed by BWM Architekten and dedicated to how different civilizations and historical periods believe(d) in the existence of higher powers. On show from today, 18 May to 15 August under the title "Higher Powers. People, Gods and elements of nature." (photo: Daniel Auer © KHM-Museumsverband)
Higher Powers.